Gluten is a general name for the proteins found in wheat (durum, emmer, spelt, farina, farro, KAMUT® khorasan wheat and einkorn), rye, barley and triticale. Gluten helps foods maintain their shape, acting as a glue that holds food together. Gluten can be found in many types of foods, even ones that would not be expected (see Sources of Gluten). Read more
Sunday Lox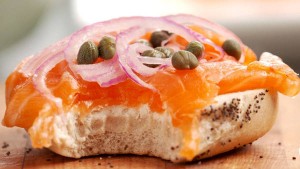 Serves: 1
Approximate nutrition per serving: 357 calories, 45g carbs, 14g fat,  8g protein, 578mg sodium, 6g sugar
Ingredients:
Smoked salmon
Cream cheese
Thinly sliced red onions (optional)
Capers or olive tapenade (optional)
Directions:
Toast bagel.
Spread with cream cheese.
Add salmon.
If desired, top with onions and/or capers.
---
Chunky Mango Guacamole
Serves: 7
Approximate nutrition per serving:
138 calories, 13g carbs, 10g fat, 2g protein, 339g sodium, 6g sugar
Ingredients:
3 medium ripe avocados, peeled and chopped
1 large mango, peeled and chopped
1 large tomato, chopped
1 small red onion, chopped
1/4 cup chopped fresh cilantro
3 tbsp lime juice
1 tsp salt
assorted fresh vegetables and Blue Diamond Almond Nut Thins 
Directions:
In large bowl, combine first five ingredients; stir in lime juice and salt. Serve with vegetables and chips.
---
Peanut Butter Granola Bites (after-school snack)
Ingredients:
1/3 cup honey
¼ cup natural peanut butter
2 tbsp unsalted butter
1 cup crisp rice cereal
1 cup gluten free rolled oats
¼ cup dried fruit
Optional additions: 2 scoops protein powder; 2 tbsp ground flaxseed
Directions:
In a saucepan over medium heat, add honey, peanut butter, and butter. Stir until loosened and smooth (1-2 minutes). Remove from heat; stir in cereal, oats, dried fruit, and other ingredients. Drop a tablespoonful of mixture into each lined cupcake tin, OR spread in baking pan approximately ½ inch thick. Refrigerate approximately 15 minutes until set. For bars, cut with sharp knife and remove from pan with spatula.
More recipes at www.celiac.org